WELCOME TO OUR WORLD OF DANCE and to "Love To Dance" in Arad overlooking the Dead Sea. Our world is the wonderful, elegant world of ballroom dancing and the amazing hot, sizzling world of Latin dancing. This form of dance, or dancesport in its competitive form, is fast spreading across the globe. In Israel, despite its small size, we have some very experienced teachers and highly accomplished young couples who are competing nationally and internationally.

In Arad we have an outstanding young couple - Annabelle Perez and Illia Miasnik who have proudly represented Arad and Israel in national, international and world events in Ballroom and Latin dancing. Trained by Patrice Perez at the LOVE TO DANCE - DANCE SCHOOL they are now preparing for their third time at the famous "Dutch Open" in Holland one of Europe's most spectacular competitions.
Italian Open 2009

We would like to say thank you to all the organisers of the Italian Open in Cervia - To Massimo and Alyssia who were so warm and relaxed, to Caterina and Jerry who were so welcoming and fun, to Schiavo and Brigitta and all those who worked so very hard to put the competition together and give us such a great time.

I was amazed and surprised at the football game and all the top international dancers - Sinkinson, Selmi and Gozzoli and so many more - who came to Cervia expecially to play football. I never would have believed it if I hadn't seen it with my own eyes.

The wonderful weather at the seaside and the wonderful dancing at both amateur and professional levels. It was a delight to behold and a delight to be part of and we are looking forward to being with you again next year. Till them ciao.

Patrice Perez.

Italian Open 2009

The standard was very high with some of the best couples from around the world.

WDC Italian Open Professional Standard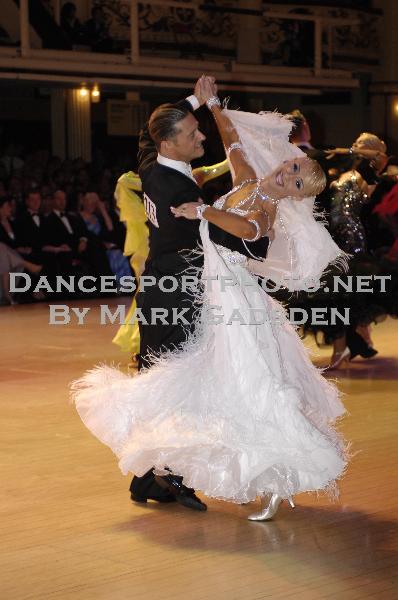 Professional Ballroom - Roberto Villa and Morena Colagreco from Italy came first. Other couples came from Slovenia, Germany, England, Russia, Slovakia and Ukraine.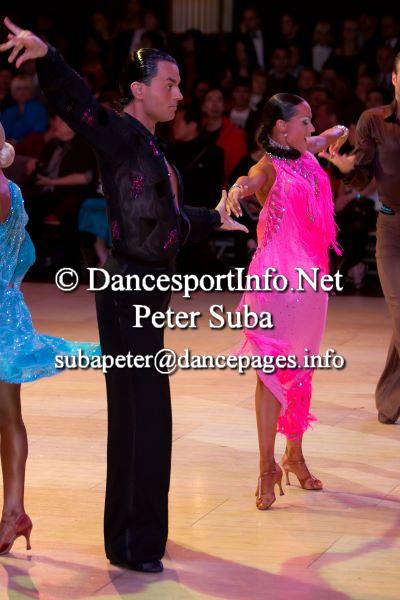 Professional Latin - Emanuele Soldi and Elisa Nosato from Italy came first. Others came from Germany, Finland, Ukraine, Russia, Greece and Czeck Republic.

The famous Italian Open was a wonderful experience. The panel of judges was awesome - Massimo Giorgianni, Augusto Schiavo, Caterina Argenton, Jerry Abrate Vice President of WDC, Serrena Lecca - all from Italy, Andrew Sinkinson from England, Sergei Ryupin from Russia, and others including Brigita Elksne, Lalla Turra Dell'Orto the founder of the Cervia dance festival, Svatislav Vloch President of IDSA, Annatoli Treliski President of IATPD of Israel and more.
Annabelle Perez and Illia Miasnik from "Love To Dance" Arad came fifth in the Amateur League World Championship 2009 Ten Dance Under21 category and got into the semi finals of the Amateur Latin Italian Open 2009 which they did not expect or even believe when it happened.
Italian Open Finalists - Amateur Latin

22 couples competed - 4 Russian couples, 1 from Denmark and 1 from Azerbaizhan got into the finals. First place went to

Kirill Belorukov & Elvira Skrylnikova

.
Amateur Amateur Ballroom above - you only see the first three couples of the finalists - first place went to a wonderful young couple from China - Chao Yang and Yiling Tan, second to Azerbaizhan and third to Serbia, others from England, Italy, Czeck Republic and Ukraine.
Annabelle and Illia were shocked and overjoyed at getting into the semi finals and coming 11th in Amateur Latin.
Fun and games in Cervia
Massimo Giorgianni watching the football match from a comfortable seat!
Caterina Arzenton on our bike riding through Cervia with Patrice Perez and Illia Miasnik from Israel.

Jerry Abrate and Caterina Arzenton together with some of their fantastically talented young dancers from the competition with Annabelle, Illia and Patrice from Israel.

Laughing, dancing and fighting in Venice - yes we got lost as everyone does walking through the streets and over the bridges of Venice.

Eating Lasagne, Ravioli and Pizza on our first day in Italy.
One of the largest competitions held in Europe the famous and prestigous international DUTCH OPEN which is held each year in November and to which we send our top dancers.

Annabelle and Illia in AMATEUR and YOUTH BALLROOM and LATIN DANCING at - DUTCH OPEN 2006,2007,2008.
AMATEUR AND YOUTH LATIN
These photographs are from the Dutch Open 2007 where they proudly represented Israel in both Youth and Adult categories.

DUTCH OPEN 2008

CONGRATULATIONS TO ANNABELLE AND ILLIA ON GETTING INTO THE TOP 48 IN RISING STARS LATIN AT THE DUTCH OPEN 2008!!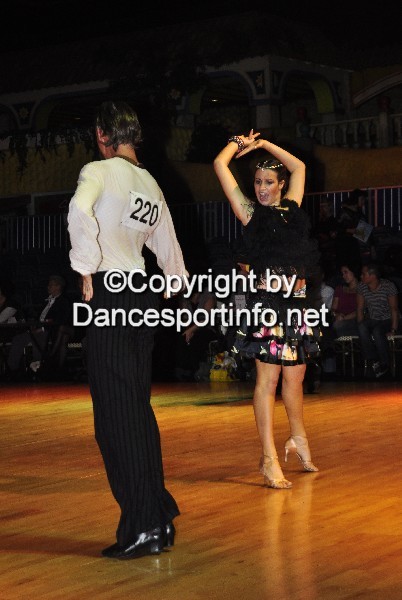 For results and photos go to Dancesportinfo.net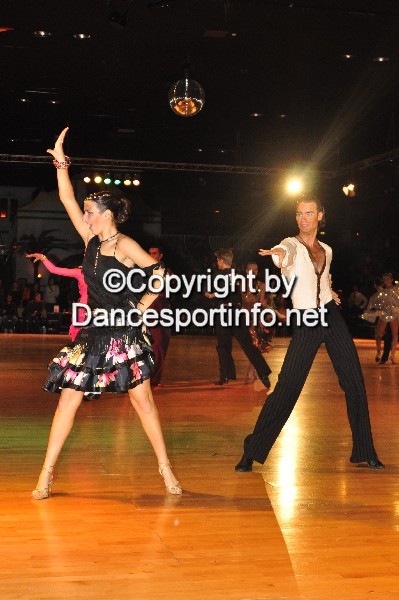 Congratulations to Annabelle and Illia who reached 47 in Rising Stars Latin Dutch Open 2008.
Congratulations to Artiem and Elena who reached the finals in the Junior B Latin.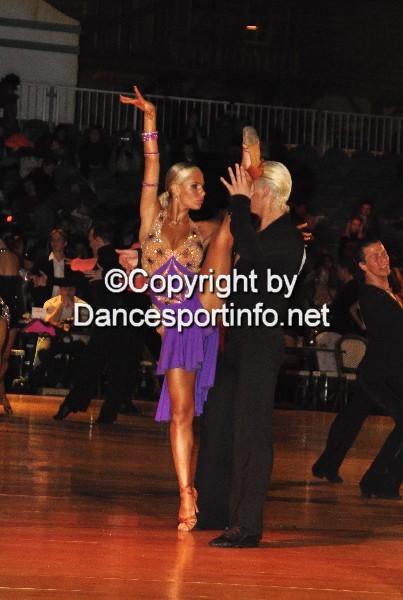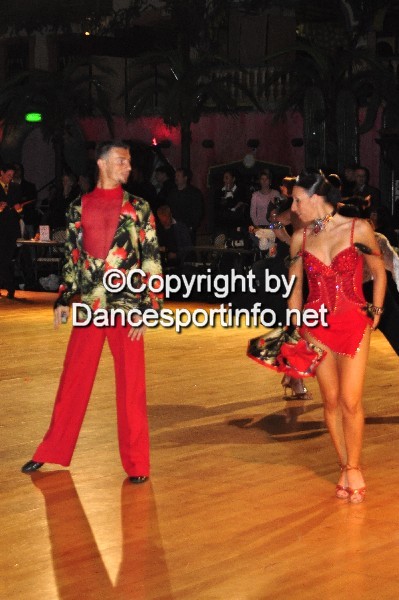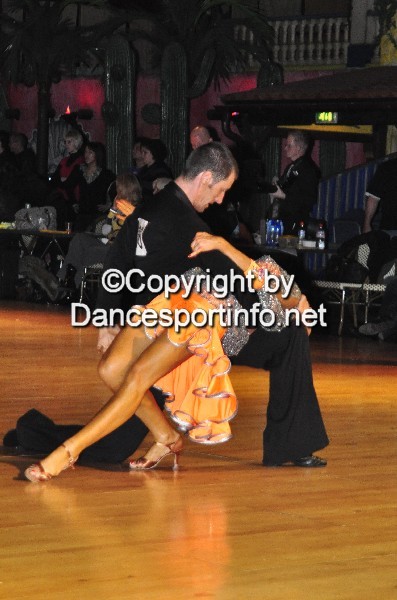 PROFFESSIONAL OPEN WORLD CHAMPIONSHIP
REHOVOT 2008 WINNERS - ANDRE BOUCHIK AND VALERIA BUSHUEVA FROM RUSSIA

International Dancesport Association together with World Dance Council - Open Professional World Latin Championship for the first time in Israel organised by Anatoli Treliski - won by Andre Bouchik and Valeriya Bushueva from Russia. In the photograph above together with Patrice Perez and Annabelle Perez.

In the photograph below Annabelle and Illia starred at the famous Carmiel Dance Festival 2008 - a three day event where they gave three solo performances in an evening devoted to Latin and Ballroom dancing.
Carmiel Dance Festival 2008
Annabelle and Illia were asked to star in the evening performance at the Carmiel Dance Festival 2008
Mayor of Petach Tikva National Competition
Annabelle and Illia, Danna and Avi from Love To Dance Arad
This article appeared in the local newspaper "HaTsvi" and reports on the development of Ballroom and Latin dancing in the south of Israel and the Dimona Dance Festival organised by Patrice Perez and held during Hanuka 2008.

ריקודים סלוניים

בחוץ היתה סערה ומכת קור, בפנים היו ריקודים סוערים, אש בוערת וחם בלב. הצבע האדום היה דומיננטי. חיוכים, התרגשויות, התלהבות ואהבה למוסיקה ולריקודים.
ענת רסקין

לפני כ-13 שנה רפאל סציאקוב, מורה לריקודים סלוניים, לימד בערד. פטריס פרז הגיעה לעולם הריקודים הסלונים בעזרתו. מאז הפכה פטריס למורה לריקודים סלוניים בעצמה ומנהלת היום את מועדון 'סנרייז' במתנ"ס ערד. גם ז'נה רגוצקי הגיעה לערד והתחילה ללמד ריקודים סלוניים ולנהל את מועדון 'סילואט' השייך לעמותת הספורט בערד. רפאל עזב את ערד ועבר לגור ולפעול בתחום הריקודים הסלוניים בקרית גת ויבנה. ז'נה מלמדת כיום גם באשקלון, ופטריס מלמדת גם בדימונה.

ביום שלישי 23.12.08 בחופשת חנוכה, נפגשו שלושת המורים עם זוגות התלמידים שלהם וקיימו תחרות- פסטיבל ריקודים בדימונה, עם 100 רקדנים בכל הרמות ובכל הגילאים. האירוע תוכנן להציג בפני העיר דימונה את עולם הריקודים הסלוניים ממתחילים בגילאים 4-5 ועד מתקדמים, שהיום מדורגים בין הטובים בארץ ומייצגים את ישראל בתחרויות עולמיות.

פטריס פרז שופטת בין לאומית ומנהלת ספורט באיגוד הישראלי לספורט הריקוד: "הארוע היה סגירת מעגל עבור שלושתנו. אני חושבת ששלושתנו יכולים להיות גאים בהישגים שלנו – אנחנו עזרנו לבנות איגוד ארצי לריקודים סלוניים, אנחנו שופטים בינלאומיים ושלושתנו מובילים עם זוגות הרקדנים שלנו. ז'נה ואני ארגנו את התחרות הבינלאומית הראשונה באיגוד שלנו, לפני ארבע שנים, בעיר ערד. מאז יש לפחות תחרות בינ"ל אחת, כל שנה בארץ. אנו מעורבות היום במישור הבינלאומי עם קשרים בינלאומיים עם המובילים בעולם בתחום הריקודים. גם באופן אישי אנו גאים: לרפאל יש שני בנים שרוקדים, לז'נה יש בת שמתחילה את דרכה ולי יש בת שמייצגת את ישראל הרבה שנים בתחרויות עולמיות בארץ ובחו"ל. שלושתנו מדרום הארץ ולשלושתנו רצון אדיר לקדם את התחום ולפתח את הריקודים בארץ".

"זה עולם של קסמים – אנשים מתחילים לרקוד ולא רוצים להפסיק – הדבר נותן הרגשה של סיפוק והצלחה, של בריאות וכיף, של מאמץ פיסי אדיר כמו כל ספורט אחר בתוספת מוסיקה ותלבושות, דרמה ואומנות, הכל ביחד."

פטריס מזמינה כל אחד שאוהב מוסיקה ותנועה וחלם אי פעם לרקוד להגיע ולהכנס לעולם הריקודים הסלוניים. "אין הגבלת גיל בעולם הריקודים – כל אחד יכול לרקוד!", היא מציינת.

הזוגות מערד שהגיעו למקומות הראשונים:

גביע 16+ לטין – על פי בחירת הקהל, מקום 1 משותף- לאנאבל פרז ואיליה מיאסניק ממועדון "סנרייז" ערד ולתימור איברגימוב ויקטרינה וסיליב מ"סילואט" ערד.

בקטגוריה גביע רומבה, התחרו כל הזוגות שרקדו רומבה בתחרות, מגיל 10 ועד מבוגרים – שבעה זוגות רקדו בגמר - במקום 1- תימור ויקטרינה מ'סילואט' בערד, במקום 2- אנאבל ואיליה מ 'סנרייז' – ערד. במקום 3- מרק ולינה מ 'סילואט'- ערד.

גביע 12-15 לטין - מקום 1- למרק צרניאק ולינה קוגן מסילואט.

גביע מבוגרים לטינים ומבוגרים סלונים - מקום 1- לפבל קוגן וילנה מיאסניק מסנרייז ומקום 2- לסרגי דניסוב ואלה דניסוב מסנרייז.

תלמידים נוספים הגיעו למקומות הראשונים בקטגוריות ריקוד שונות בהתאם לגיל.
It has long been a dream of mine to reunite all the dancers in Israel... Click here
GOLD IN AMATEUR - THE SMILES SAY IT ALL
NATIONAL COMPETITION AFULA - GOLD IN AMATEUR BALLROOM AND BRONZE IN AMATEUR LATIN
16+ GOLD, SILVER AND BRONZE ALL IN JANUARY 2007
HEDERA 3.2.07
TWICE ON THE PODIUM ON THE SAME NIGHT
GOLD in 16+ Ballroom and SILVER in 16+ Latin HOLON NATIONAL COMPETITION
The photograph above - Holon National Competition 2007 - was a moment of such satisfaction. A few moments before they had come first in 16+ Ballroom and then were called back to take their place again on the podium, second in 16+ Latin. The smiles say it all.
This photograph appeared on the cover of the Russian newspaper Vesti with the heading "The sweet taste of victory!" 10/1/08
Below at the Dutch Open 2006 Annabelle and Illia danced in Youth Ballroom, Rising Stars Ballroom, Youth Latin, Rising Stars Latin and Amateur Latin. Their best results were in Amateur Latin and Youth Ballroom where they reached the top 48.
AMATEUR LATIN AT THE DUTCH OPEN 2006 IN ASSEN
ANNABELLE AND ILLIA DANCING RUMBA IN AMATEUR LATIN
Youth Ballroom Dutch Open 2006. Annabelle and Illia got into the top 48 in Youth Ballroom and we are very pleased with their results.
Ten couples from Israel took part in the famous Dutch Open 2006 in Assen from juveniles to adults. Thirty people from Israel went to enjoy this fabulous four day event which always takes place in November.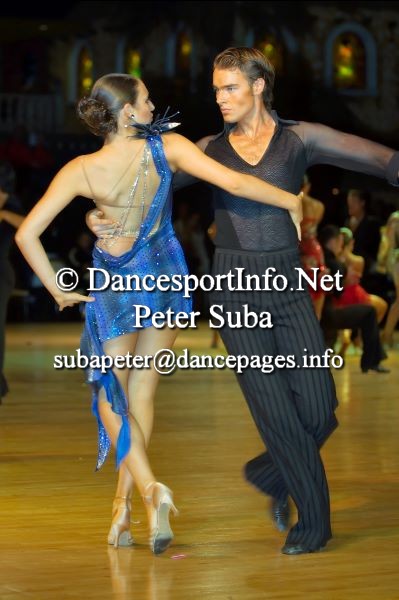 Here dancing in Rising Stars Latin
What an experience - the Dutch Open in Assen - a three day congress and a four day scintilating competition of all ages including top Amateur and Professional dancers. What an honour to represent Israel at this prestigous event.
Preparing to dance the waltz - Dutch Open 2006
Annabelle and Illia danced in Rising Stars and Youth Ballroom
16+ Standard National Competition Kiryat Gat 2006
Two days before leaving Israel for the famous Dutch Open European competition in Holland
On our way to World Championships in Kiev
GOING TO DANCE AMATEUR AND UNDER 19 IN WORLD CHAMPIONSHIPS KIEV 2006
An outstanding photograph taken at the -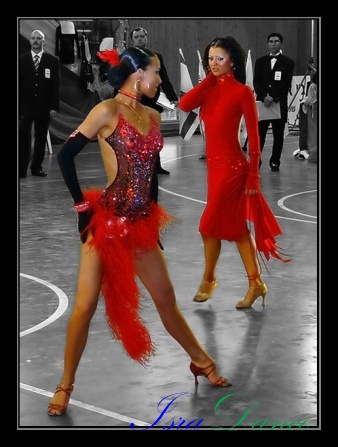 International Competition held in Arad, overlooking the Dead Sea, organised by Patrice Perez.
INTERNATIONAL COMPETITION IN ARAD
It was a great honour to be able to organise our first International Competition here in Arad. We had adjudicators and dancers from Russia, Ukraine and Israel taking part.
Arad is a two hour drive from Tel Aviv and a two and a half hour drive from Eilat. Situated in the hills overlooking the Dead Sea we have wonderful weather and blue skies all year round. Due to the cleanliness of the air this is a haven for people suffering from Asthma. A half an hour's drive and your in the therapeutic waters of the Dead Sea.
IDU WORLD CUP 2006 - TEL AVIV ISRAEL
Our first WORLD CUP in Israel was held in Tel Aviv. A two day event with internationally renowned adjudicators and couples from Italy, Holland, Russia, Israel, Ukraine and Georgia.
Annabelle Perez and Illia Miasnick twice got into the finals at the WORLD CUP in Tel Aviv coming fourth in the 16-18 Ballroom and fifth in the Amateur Ballroom category - photo above. Annabelle and Illia's results so far include gold and silver medals at national competitions and silver and bronze medals at international competitions.

WE wish them all the best in their meteoric rise in the WORLD OF DANCE.
We wish to thank Vladimir Karachensev for a fabulous five day seminar. We will come and visit you and hope you return to us many times in the future.
Vladimir was scared at the sound of every plane and with good reason. There was a possibility of our having to run for cover during this seminar and we really appreciate his courage and commitment to our world of dance.
WORLD CHAMPIONSHIPS KIEV 2006
STUART SAUNDERS with Annabelle and Illia at the Ten Dance World Championships in Kiev, Ukraine.
What a wonderful experience - Ten Dance World Championships in Kiev! There were 24 judges from different countries and couples from all over the world. Stuart Saunders from England and Jerry Abrate from Italy both Vice Presidents of World Dance Council were the chairmen. Stanislav Popov introduced the championships.
Annabelle and Illia participated in three different categories coming 18th, 21st and 23rd in three world championship categories. Their highest marks were in 16-18 Latin and I would like to thank Vladimir Karachensev for his help in preparing them for this event.
Seminar with Jerry Abrate - 2006
Annabelle and Illia together with Jerry Abrate and Patrice Perez
I wish to say thank you to Jerry Abrate for a very interesting seminar and hope we see him again soon here in Israel. Until then - Chiow.

Welcome to our WORLD OF DANCE IN ISRAEL!

It is our aim to keep this site up to date with all the latest information regarding dance activities - performances, competitions, events, lessons, teachers, dancers, personal stories, in short all the varied and exciting aspects in our "WORLD OF DANCE IN ISRAEL".

If you have any info regarding events you want to advertise or any photographs you wish to be seen please send them to us.

Over the last two years it has been my pleasure to organise a National and an International competition here in Arad. We hope there will be many more events at this level in the future.

Patrice Perez - Sports Director,

AIDA - Amateur Israel Dancesport Association,

Head of "Sunrise Arad" Dance School.
Pasodoble
Latin Seminar - Annabelle Perez and Vladimir Karachensev
We try to go to at least two seminars a year with top international instructors - one ballroom and one Latin. So far this year we have had the pleasure and delight of learning with both Jerry Abrate from Italy and Volodimir Karachensev from the Ukraine.
Yanna and Michael from Sunrise Arad taking first place at Ashdod 5/1/08
Together with some of my senior dancers - all very happy having taken part in the Ashdod Cup 2008 and won 1st, 2nd and 3rd places.
National Competition Arad organiser Patrice Perez
Patrice Perez with Michael and Roni getting first place, a young couple from Sunrise Arad