National Competition Maalot organised by Igor Galiaga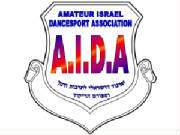 WHAT IS A.I.D.A.?
A.I.D.A. is a dancesport association in Israel consisting of 29 dance schools spreading across the entire country.
A.I.D.A. is a full member of IDU - International Dance Union, which allows our members to participate in international events around the world.
A.I.D.A. is registered with the World Dance Council - Amateur League.
A.I.D.A. has regular seminars both in Israel and abroad with some of the top dancers and teachers in the world.
A.I.D.A. has professional judges most of whom are international adjudicators and members of World Dance Council.
A.I.D.A. sends top dancers to represent Israel abroad at international and world events.
A.I.D.A. holds regular competitions at all levels across the country so that every dancer can easily attend.
A.I.D.A. is interested in you and in helping you progress whatever your age and experience (or inexperience). Contact us.
CONGRATULATIONS!
ILAN VAIMAN - Vice President IDU and President AIDA
To Mr. Ilan Vaiman,
President of AIDA - Amateur Israel Dancesport Association,

We would all like to wish you a heartfelt and very warm congratulations on your being elected as Vice President of IDU - International Dance Union - today the 5th October 2008.


"60 Years to the State of Israel" - Israel Cup - 3.5.08
NEWSLETTER 2008
To all those interested in dancing,
This has been an amazing year for AIDA. We have successfully organised competitions and seminars across the country including two major world events - both two day events one in the centre and one in the north with a large panel of international judges and dancers from many countries together with our own top dancers. Many of our dancers have represented Israel overseas and received recognition and many of our judges have qualified for international licences. In short, our standards have risen and we are now firmly a part of the international scene.
I would like to thank all the people who have been a part of this success - teachers, dancers, parents, fans and supporters; those who work so hard to help improve our level of dancing and the standard of our dancers and those who work so hard organising all our events.
I would like to thank in particular Genya Levant for volunteering all her hard work for so many years as our general secretary and to thank Ilan Vaiman our president for working with all of us and helping to promote us internationally.
I wish all of us a healthy, happy, prospersous and peaceful New Year.
Keep happy and keep dancing,
Patrice Perez,
Sports Director,
AIDA.
OUR AIM is to help unite all the teachers, dancers and parents into one strong body which functions democratically and legally for the benefit of all, to forward the sport within Israel and to be recognised by the international dance community.

Our dancers take part in the prestigous TV programme Dancing with the Stars and this year 2008 Kiryll Sivolapov took first place.

Our first International Competition was held in Arad details below. Since then we have arranged and organised International and World Competitions and this year we are holding a professional and an amateur World Championship in Israel.

תחרות בינלאומית בערד בנוכחות נשיא האיגוד הישראלי איבגני ווימן, מנהלת ספורט פטריס פרז ומנהל האיגוד הבינלאומי איגור משין

INTERNATIONAL COMPETITION - ARAD

AIDA's first international competition was held in Arad

In the photograph below -

Ivgeni Vaimann - President of AIDA, Patrice Perez - Sports Director of AIDA, Igor Mashyn - Executive Director of IDU - International Dance Union.
INTERNATIONAL COMPETITION ARAD 2005
IGOR MASHYN Executive Director IDU, EVGENI VAIMAN President and PATRICE PEREZ Sport Director AIDA
Gold in Dimona Dance Festival
Danna and Avi from Sunrise Arad took gold at their second competition together
Dancesport is for all ages and for all levels.
DANCESPORT IN ISRAEL
EUROPEAN BALLROOM and LATIN AMERICAN DANCING together are called DANCESPORT. This form of dancing has recently been recognised by the Olympics and is fast spreading throughout Europe, America, the Far East and of course here in Israel.
Competitions are held at all different levels depending on age and standard being danced. Couples who reach ten dance level compete in championships both national and international and take part in prestigous competitions such as BLACKPOOL in England and the Dutch Open in Holland which are two of the largest competitions in Europe. Some of our top couples will be participating in these competitions in 2007 and 2008.
If you are interested in learning how to dance whether you are a beginner or advanced please contact us and we will put you in touch with your nearest dance school. Lessons can be arranged to suit your requirements.
BALLROOM AND LATIN DANCING consists of ten different dances - five in Ballroom and five in Latin.
The Ballroom dances are Waltz, Tango, Slowfox, Vienese Waltz and Quickstep. The Latin dances are Cha-Cha, Samba, Rumba, Pasodoble and Jive.
Beginners start with one Latin and one Ballroom dance and gradually add one of each working their way up to ten dance which is the highest level.
SOCIAL AND COMPETITIVE DANCING. There are two approaches to dancing - one is social dancing and one is competitive dancing. Social dancing is extremely popular with adults around the world. Competitive dancing is an extremely demanding, athletic and artistic form of dance leading up to world championship competitions.
In the photograph below you can see one of AIDA's top dancers who won in this year's TV programme DANCING WITH THE STARS.
Some of our dancers start at the age of four -